Our ClassPass social design sprint was my favorite ever design sprint during my time at ClassPass. We had so much fun interviewing users and surprising them with their actual friend information during the user research.

When we launched the new dashboard, we had heard that attending class with friends as well as getting social proof from your friends that classes were good, were top drivers of user behavior on the platform. We immediately started working on a social aspect of our app following the release of the dashboard. Our overall goal was to connect ClassPass members to one another while increasing the stickiness of the ClassPass experience by leveraging network effects. We felt that we could make users feel more comfortable going to class for the first time if they were going with a friend. We also saw a fantastic growth opportunity if current members could easily invite their offline friends to the platform via class invites.
Should a workout platform being a social network?
No, obviously not. We wanted to be careful not to overload our platform with unnecessary social features, we wanted this feature to add value to the platform, not cause distraction. We also questioned whether people would be embarrassed by the classes they were going to and whether they would want that information public. Finally, more than anything, we didn't want to compromise peoples privacy or safety by making their class schedule/routine publicly available.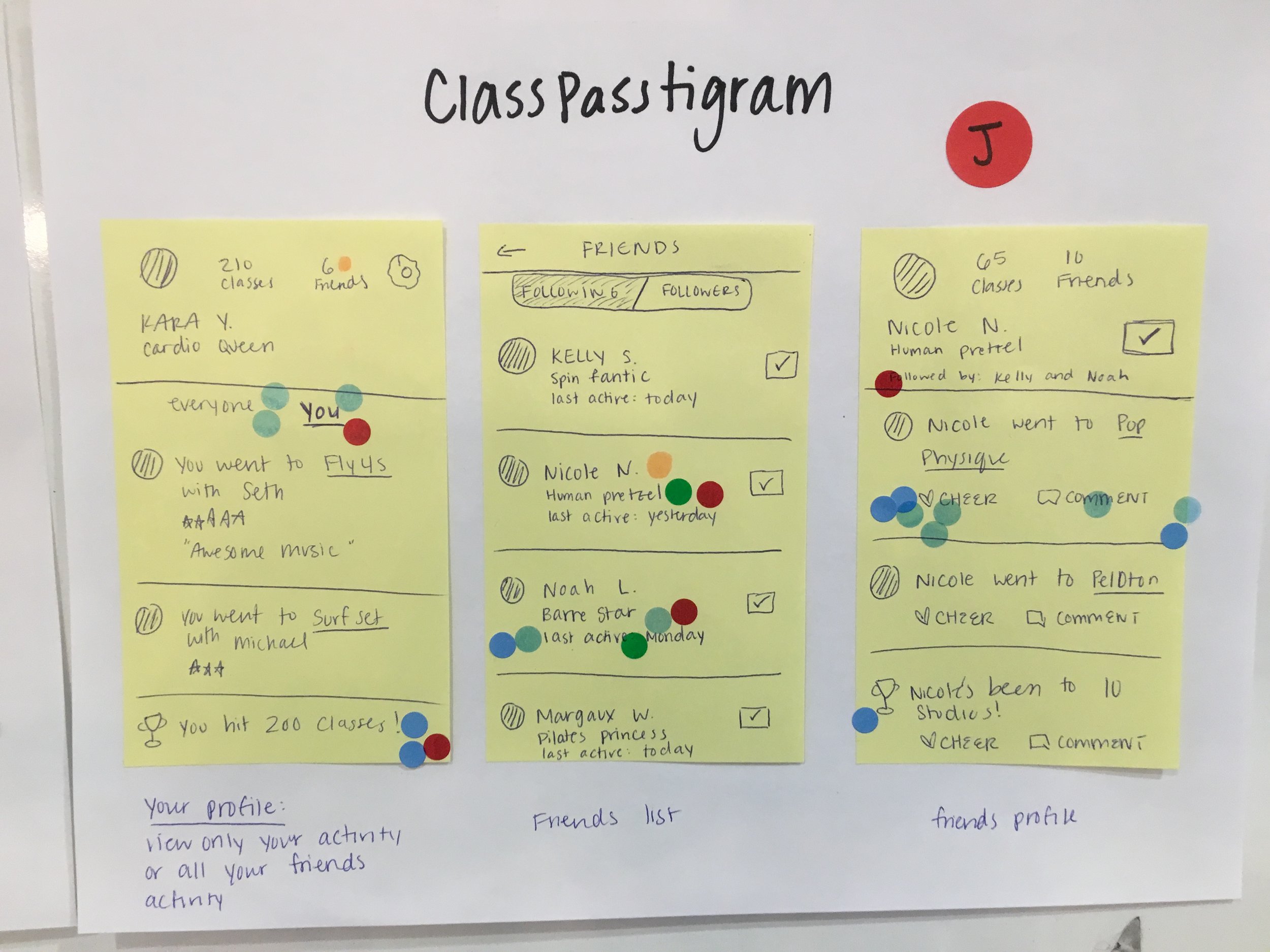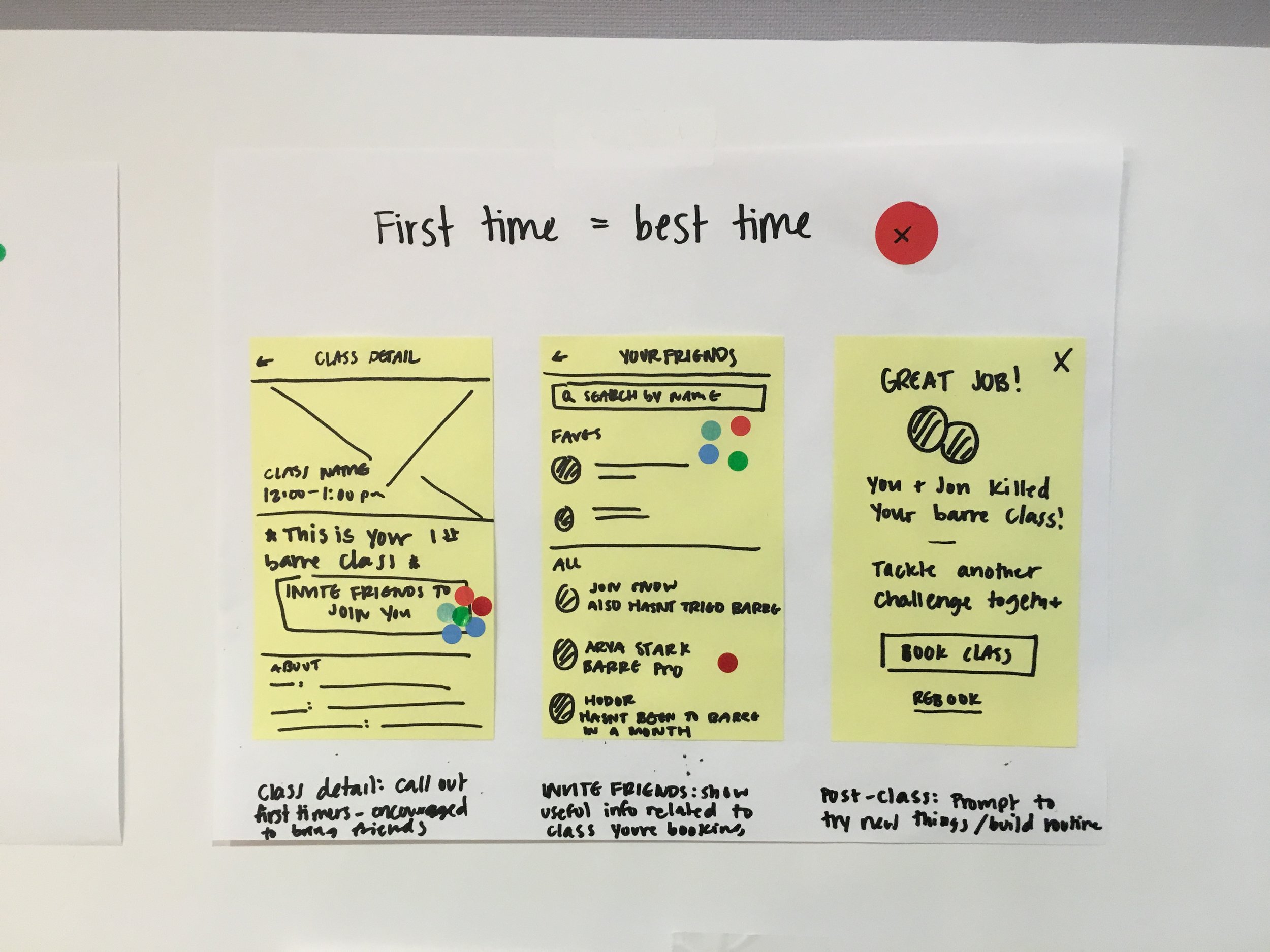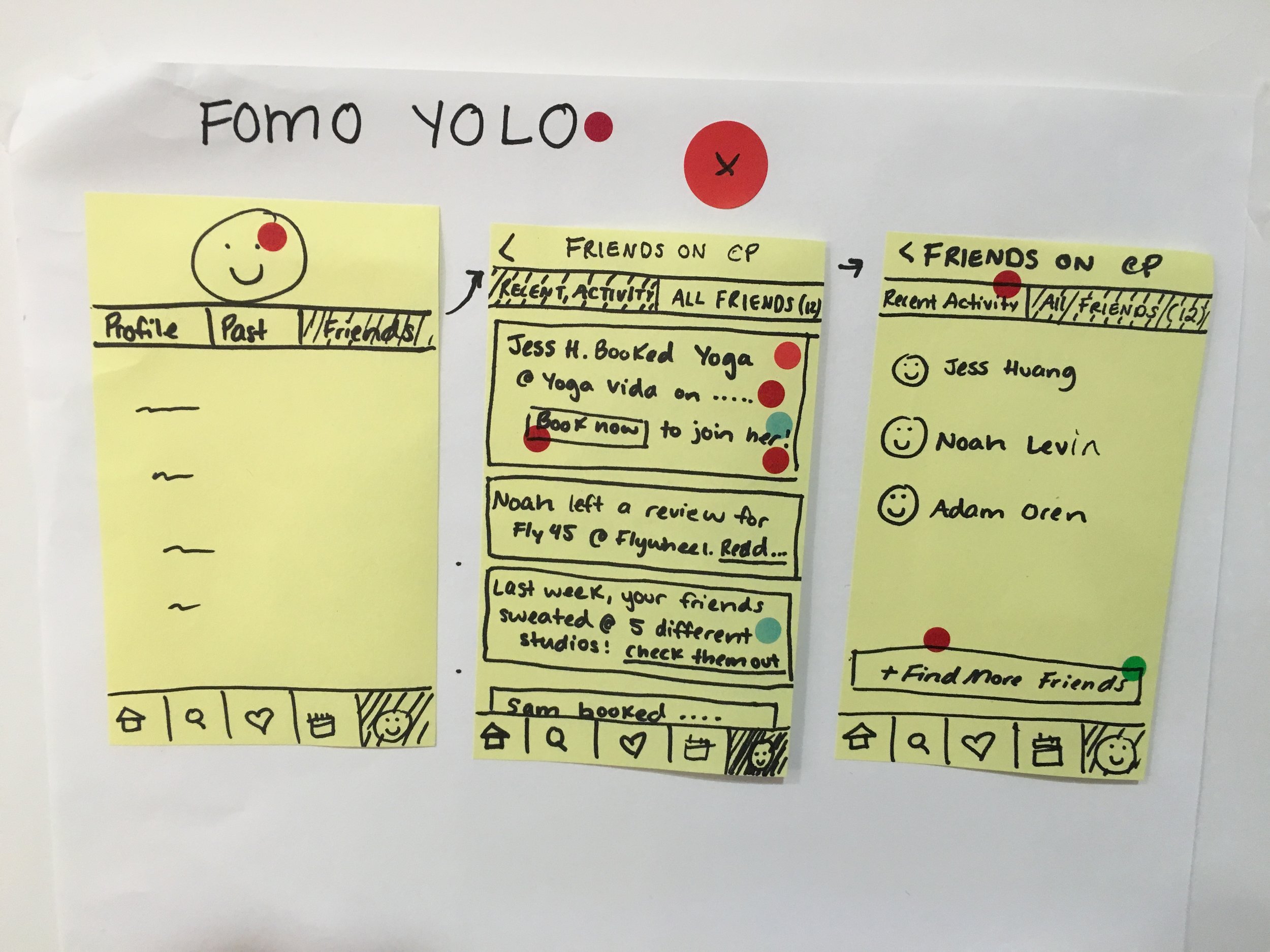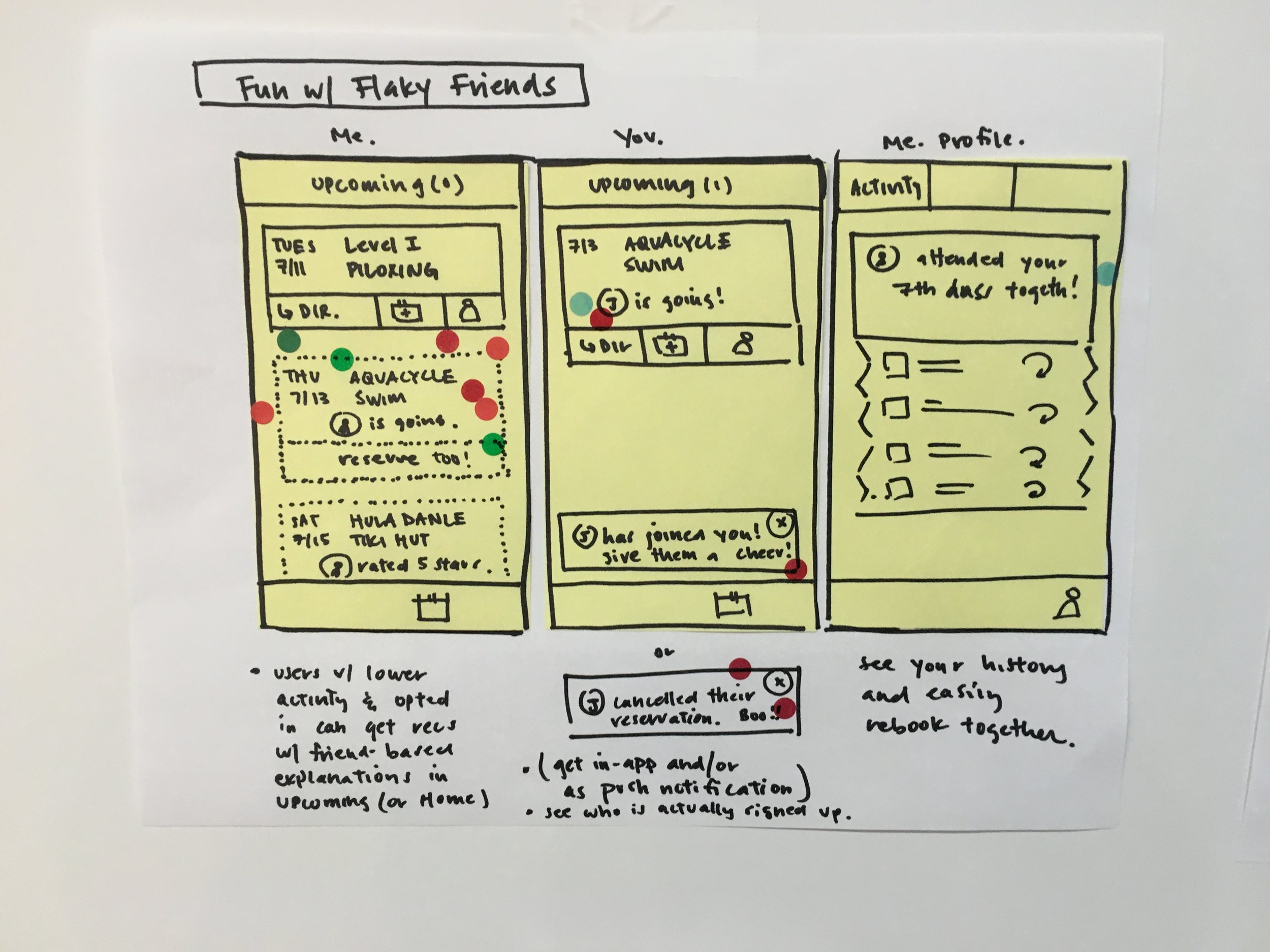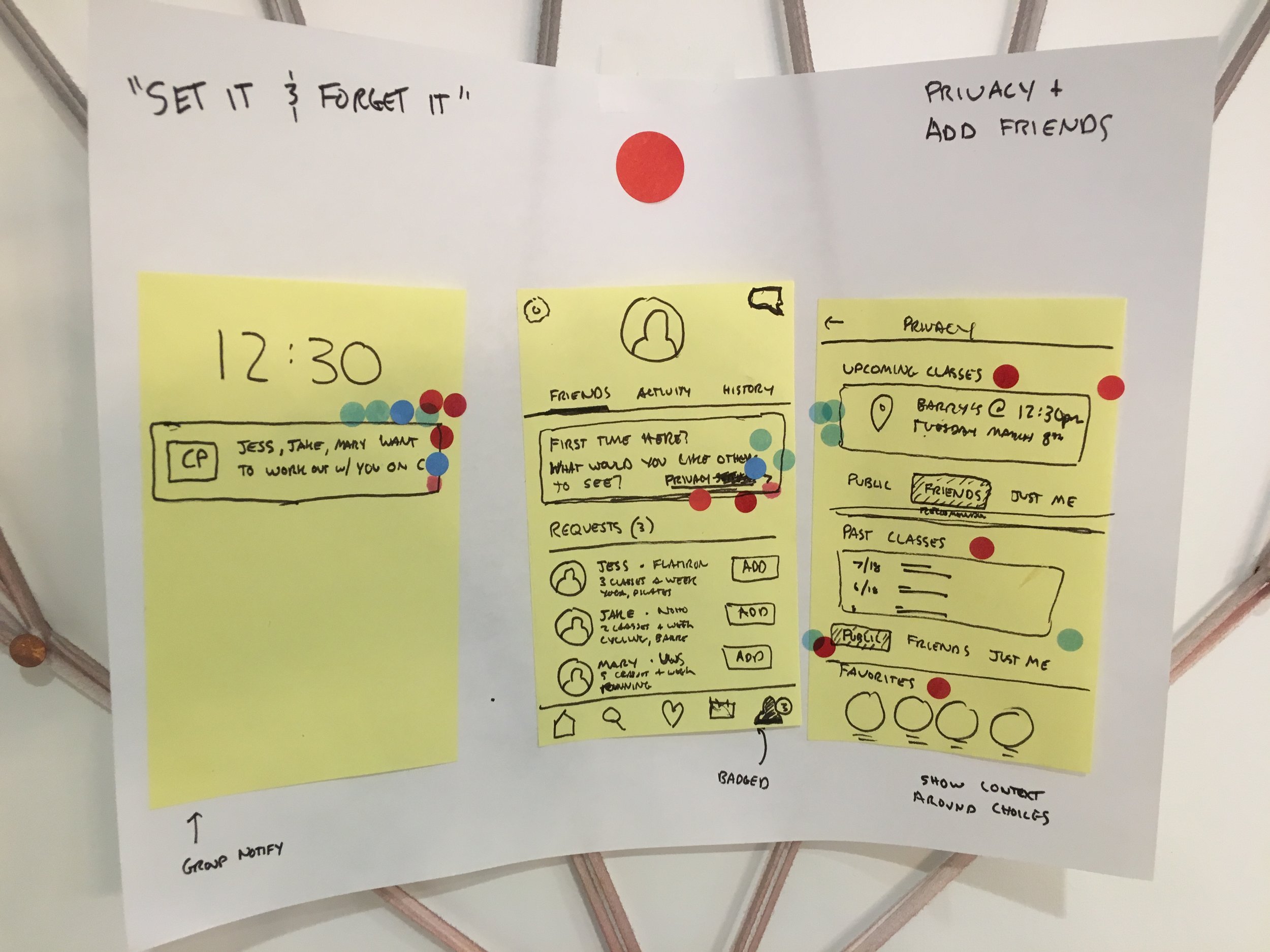 We started sketching out different options for multiple flows; inviting friends to classes, privacy settings, profile settings, and surprise and delight. Then we dug into competitive research on which social media platforms are doing these things well and which ones are failing miserably.

We tested a flow with users where they would add friends via Facebook, invite them to class, and update their privacy settings.
We had included features like "top friends" where users could select their very best friends to see everything on their profile, and then "friends" would only see things like past classes. We found that to users there was no distinction between top friends and friends, they were willing to let it all hang out. We also heard that users were not concerned with "cheering" or commenting on each others classes, their priority was just going to class together.

We launched social with a black and white switch for privacy, you can either be found by other users or you cant, and then gave more granular control over what you wanted your friends to see. We kept Facebook integration and eventually allowed users to choose their own usernames to make it easier for people to find them. (You can add me as a friend @kara!) We had toyed around with the idea of giving users a lot more control over what their profile looked like, but decided in the end to apply one color profile for your profile and another color profile for friends, to make it easy to distinguish who's profile you're on.

The final feature we added to our social offering was a spot availability filter on class search. Previously, users had no idea how many spots were left in a class and would frequently attempt to invite their friends only to find out that they had snagged the last spot. With this new feature, users can select to search classes for up to 3 available spots and send invites to friends immediately after you book.